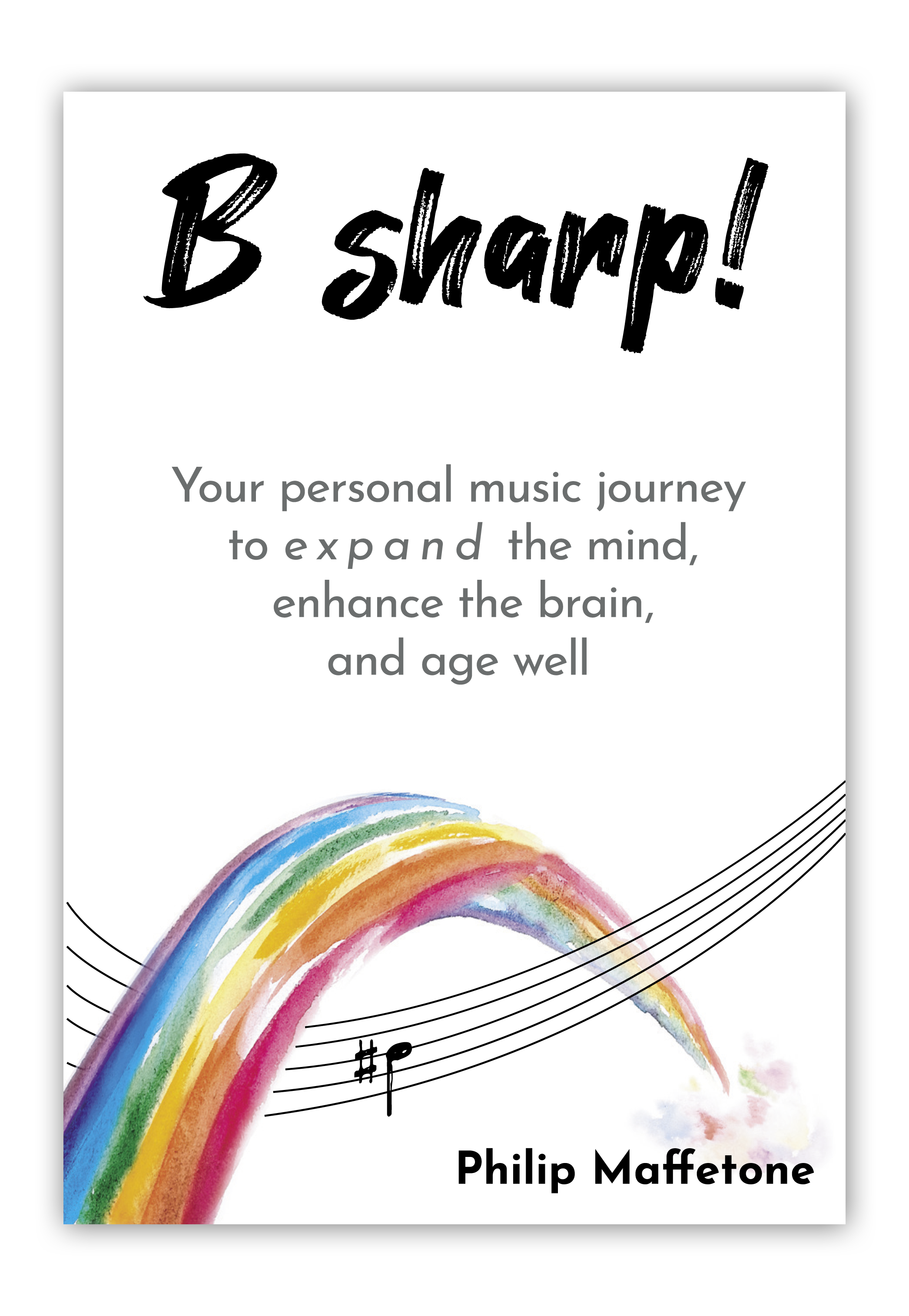 NOW AVAILABLE: CLICK HERE
References are here.
Table of Contents 
Introduction 
1 It Was 20 Years Ago Today 
2 Awakening Dreams 
3 The Amazing Journey 
4 The Art of Science is Music 
5 The Indispensable 
6 Embrace the Lazy Brain 
7 Learning, Playing and Plasticity 
8 The Five-Minute Power Break 
9 Music Soothes the Aging Brain 
10 Rewire and Reorganize 
11 It's a Jungle Out There 
12 Our Musical Personalities 
13 Once Upon a Time: Beyond Storytelling 
14 Sharing Song Stories 
15 Singer-Songwriter Narratives 
16 The Music of Exercise and Sport 
17 The Meditative Dance 
18 Sex, Drugs, Rock 'n' Roll . . . and Food 
19 Heart Health and Music 
20 If Tomorrow Never Comes 
Introduction 
Why this Book is Unique 
If happy little bluebirds fly beyond the rainbow, why, oh why, do we need music to take us there? The mind loves it. And science now knows how music can heal us. Do we dare to dream about these boundless benefits for a better brain-body? Can simple methods encourage it? Yes, that's what this book is about. 
Music listening quickly expands the mind. The benefits increase when music is further personalized with toe tapping, singing along, seeing it performed, and even more by dancing, writing or playing it. The process goes beyond pulling our heartstrings, feeling forever young, and getting more love from life. Music can improve personality, protect and repair the brain, and widen our horizons to inspire more personal human potential. That's just the beginning. 
It began with our earliest ancestors. We're all born to listen, sing, create and move to music. As babies, it facilitates communication and bonding with our mothers, synchronizing the brain to regulate intellect, behavior and body movements of those around us. Music contributes to maturation through awareness of empathy, compassion, cooperation and trust, facilitating a powerful social influence connecting all humans as a single family. 
Humanity's story is music. 
It's probably in your head right now, with us consciously and subconsciously even when we sleep. The melodies, harmonies, rhythms and the magic of music's veracity can potentially teach us  to listen, share and live in the moment. 
This book is my story, woven within yours as a stream of newborn music heard over and over again. Essential to survival — like sex and food — it's inseparable, nourishing and a natural driving human force. Shakespeare wrote, "If music be the food of love, play on." 
But has music gone astray? If so, it could impair us personally, as a population and a planet. Changes in human music appear to parallel increasing global rates of brain injuries that can cloud communication and cognition. When this occurs in songbirds, scientists show, it signals extinction. 
Just like art and science, and brain and body, the mind and music are one. From the beginning it guided us to superspecies stardom. Now, the expressive power of song can help rescue us and our planet. 
In his recent book, The Creative Act: A Way of Being, music producer Rick Rubin states, "Your entire life is a form of self-expression. You exist as a creative being in a creative universe. A singular work of art." 
Can we build a better brain, really? Create a new you? Most definitely, for everyone of all ages — musician or not. Various time-tested clinical methods featured herein help us rapidly and continuously expand the mind by renewing the brain through a natural process called neuroplasticity. All our physical and mental experiences enable plasticity, especially learning and enlisting memories. Music may be the most powerful way to accomplish this throughout our lifespan, not just to keep our mind sharp but to develop and further expand it. 
Music can quickly boost alpha and theta brainwaves, inducing a state much like deep meditation. It also can promote optimal aging, protect and repair the brain, produce new brain cells and maximize brain-body health. Moreover, music can powerfully manage the effects of our daily physical, biochemical and mental-emotional stress through the brain's natural neurohormonal HPA axis. 
Many know me as a clinician who, for decades in health, sports, nutrition and biofeedback developed many self-care methods, published research and wrote books. Singer-songwriter James Taylor said, "Dr. Maffetone's system goes beyond dealing with symptoms; he looks at health and fitness as an integrated balance. He deals with the whole picture clearly and directly." 
At the peak of this wonderful clinical career, I woke one day with the overwhelming yearning to write songs. The passion to exclusively pursue this personal creative artistic endeavor as a songwriter became a journey beyond musical mind expansion. It saved my life. 
Music can enhance or save your life too. Thanks to a rich musical past, passed down by the earliest humans, we all have the power to expand the mind, write the score and uncover more of ourselves, and improve health with music. 
Whether you're a novice musician, retain bad memories of music lessons, dream to play and improve, or are wildly successful and still want more, everyone can go where no human brain has gone before. 
There is no better time to expand the mind than now. Being healthier humans on a peace-loving planet is a reality when we dare to dream the dreams that come true. 
— Philip Maffetone