An amazing self-help journey: 
Linking personality traits with musicality 
Using music to expand the mind for a better, more balanced brain and body. 
Dr. Philip Maffetone
As humans, we have always been naturally capable of changing our brains. We modify personalities, behaviors, attitudes, and even appearances to feel good and perform better in social and private situations. The importance of changing the brain is significant as it can improve our lives, including overall physical and mental health and how well we age. Personality traits play a key role in this process of change. In the U.S. alone, over $10 billion is spent annually on self-help books and programs targeting the change of personality traits—easier said than done. A large volume of research pairs traditional personality traits with music preferences, offering a simpler solution. 
Studies show that up to 95% of those in all age groups (with slightly more younger people) want to change their personality traits to improve social and personal relationships, decision-making, mental and physical health, and other aspects of life. These traits go far beyond the extrovert and introvert personalities first introduced by psychologist Carl Jung a century ago. Commonly used today are further categorizations from the "Big Five" traditional personality domains described below to the 16 Myers-Briggs's types.  
While we develop our personalities throughout life, music was hardwired in our brain before birth. This music personality, referred to here as musicality, is intricately linked to our traditional personalities. Musicality offers a way to modify personality traits; almost as easy as turning the dial or clicking a different button. 
The well-known benefits of music's powerful effect to promote a better, more balanced, brain and body are increased through music biofeedback. This simply refers to the act of expanding the mind through music. It incorporates an ongoing natural process of brain repair, increasing new neuronal connections, even making new cells, all part of a complex process called neuroplasticity. Music can be a powerful stimulant for plasticity, regardless of age.  
Experiment, Experience, Expand 
Through experimentation with new musical experiences, we can expand our minds, keep our best attributes while letting go of others, and be the same person with a better, more balanced brain. Personality change is not just about switching from being introverted to extroverted, or vice versa. It is not just changing from our current personality to one we think is cool—we don't want to give up our individuality and become someone else. Music biofeedback helps us change ourselves for the better; the more diverse and extensive our musical experiences, the more we feel life. To paraphrase Joni Mitchell, we listen to music that others write to see ourselves in it. 
Music influences us holistically by providing a wide range of healthy physical, biochemical, and mental-emotional responses. Studies show that feelings of happiness and nostalgia are more common during musical activities, while anger, boredom, and anxiety are more common during nonmusical ones. Unhealthy responses to music are common too: people with mental illness often use it to self-promote negative moods, advertisers and politicians for propaganda, and as a rallying cry for war. There are also many physical responses to music as brain-body interactions through the nervous and hormonal systems produce powerful effects on muscles, movement, and energy levels. 
Combining these and other factors, I designed a musicality model to help guide this amazing journey, to literally create new neural connections that expand the mind to improve brain and body balance. By experimenting, experiencing, and expanding our musicality, all our other personality factors and our whole being can be positively influenced too.  
The Music of Balance
Most are familiar with the concept of balance, a key focus of the musicality model. While never perfect, we can continue striving for better brain balance using music to help expand the mind and promote healthy cognitive, behavioral, and personality changes.  
Balance can be exemplified in the extroversion trait, which is best seen as a spectrum from highly extroverted to highly introverted. Those more in the middle, called ambiverts, are considered to have a better balance of personality. 
Throughout my clinical, scientific, and music career I've described balance as optimal physical, biochemical, and mental-emotional health and fitness. A yin-yang model might depict it as stability and change: each precedes and follows the other. We want stability in life and healthy change can bring it. Music and change are often linked. The groundswell of dramatic global social changes that peaked in the 1960s corresponded with equally great and broad musical changes. We naturally crave and strive for stability and change, despite the challenge of achieving better balance. 
Balance is also found in our various states of consciousness reflected in specific brain waves (measured by EEG), including:  
Beta waves are part of an active busy brain, present when getting or giving directions, during a business meeting, with increased tension and alertness, or when internally or externally chattering. Beta activity during exercise, sleep, meditation, or music listening may interfere with these activities and be abnormal. 
Alpha waves reflect intense concentration, focus, creativity, and deep thinking. Alpha appears with eyes closed, during music listening and meditation, helping to reduce stress and anxiety and increase relaxation and mental capacity. Excess stress can impair alpha. 
Theta waves, associated with memory and making associations, often appear during deeper music listening and meditation, briefly at the onset of nighttime sleep, and are very common in children's developing brains. 
Delta waves occur during deep sleep and nighttime rest. Beta can interfere with going into delta. If delta appears during the day, we get sleepy, which can indicate a sleep disorder. 
Listening to a variety of music often, especially storytelling songs and music with video, can strongly promote alpha waves, and sometimes theta.  
Traditional Personality Traits 
Descriptions of personality traits date back thousands of years in the writing of Plato, Aristotle, Hippocrates, and others. Over a century ago they were greatly expanded upon by psychologist Sigmund Freud. Today's extensive research, scientific debate, and detailed descriptions have created literally hundreds of traits. 
Five commonly described traditional personalities are listed below. We don't usually fit into any single trait, more often it's a combination of two or more. 
Openness: intellectual, cognitive, creative, focused, curious.  
Conscientiousness: orderly, responsible, dependable.  
Agreeableness: good-natured, cooperative, trustful. 
Extroversion: optimistic, sociable, talkative, assertive. 
Neuroticism: strong stress reaction, anxious, sadness, negative emotions. 
Along with other factors, these traits are used in the musicality model to help guide our journey. 
The Musicality Model 
This model helps us self-assess and understand our overall personality. Regardless of the starting point, after getting a general sense of our personality, we can all improve the brain and expand the mind. By experimenting with and experiencing a wide range of musical listening, we promote more alpha activity. This occurs when we surprise the brain with new music, rediscover other pieces, and let the imagery of music videos powerfully enhance those experiences. 
In addition to the traditional personality traits, which are incorporated non-traditionally here, the full spectrum of amusia is included. As a common music-related brain injury, amusia certainly affects personality and overall physical and mental-emotional health in significant ways, even though not considered a personality trait. 
The model is divided into two distinct categories defined by color: 
The green represents potentially healthier personalities; the more widely varied, the better. Experiment and experience more of the positive characteristics and activities regularly and over time. 
The yellow indicates caution and is associated with brain injuries—those that can also be helped with music biofeedback. Experiment and experience more of the positive activities indicated in the green often.  
Many can use music biofeedback successfully on their own or with family or friends. Others may begin solo and then find assistance is very valuable, sometimes enlisting the professional help of a music therapist, talk therapist, or others.  
The Musicality Model [Traditional personality types in brackets.]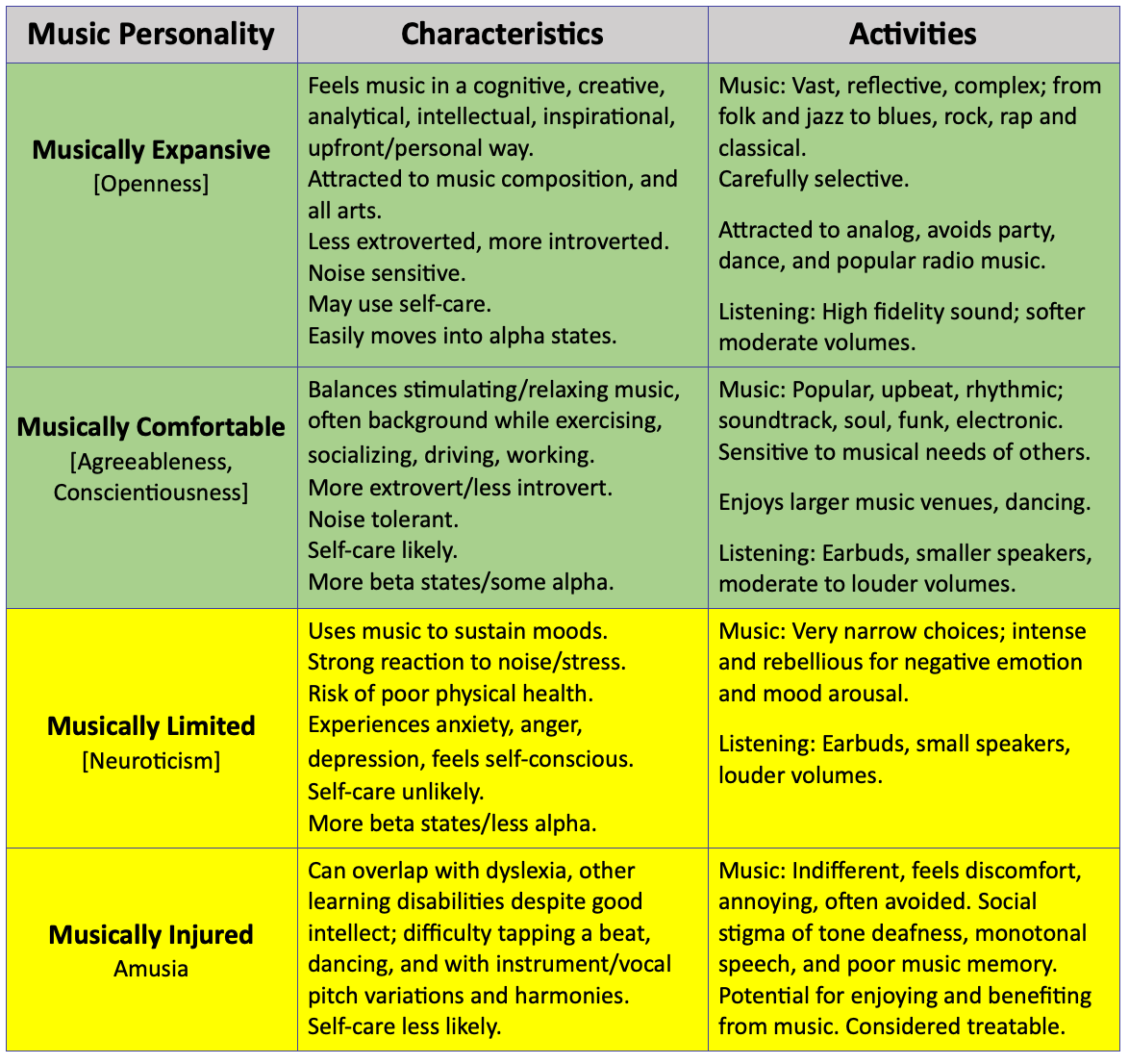 Implementing Music Biofeedback
This process can quickly create an intense alpha state to help build many new brain connections. Among the indications are feeling good, chills, powerful memories, tears, and more. Music biofeedback can take us on a journey to the center of the mind, exposing the brain to other worlds like a magical mystery tour—accomplished simply through regular music exposure. Below are some specific suggestions (and all free).
First, begin listening regularly to these two general types of music: oldies and newbies.
Oldies are your favorites, the songs you remember well, those associated with a vibrant time in your life, such as youth or when first falling in love. You probably remember at least some of them, and once you begin listening, others may come to mind. 

Newbies include music you're not familiar with or never heard before. I will recommend some or you can ask friends and family for their favorites. Listening with others, then discussing the feelings evoked by the music, can further help expand the mind. Venture out into the unknown: from a classical piano piece to grunge punk rock; from Beethoven's Moonlight Sonata to Nirvana's Smells Like Teen Spirit. All music is much more similar than not, composed of a relatively small number of notes—it's our response that's different, with a desire to hear more of some or less of others. Regardless, listening once is a significant enough experience, an experimentation, that can expand the mind. We may even discover more favorites.
An even more powerful way to enhance the brain's experience is through imagery. Music videos accomplish this extremely well, as do musical documentaries or movies that add storytelling, listening, and learning. Live music can even be more potent. While music listening is a great way to replace TV-watching, music videos and movies can further enhance the benefits, especially as a healthy social event. Suggestions for these are also made below.
Learning about certain aspects of music, from how a song was written, to a unique feature of a certain genre, can greatly influence our appreciation. Studies show that people who strongly dislike a type of music like rap (or classical, or folk, etc.) find enjoyment of it after understanding more about the style.
The best listening environment is a quiet location using headphones, earbuds, or a high-fidelity sound system.
Music Pieces
Music Videos
Music Documentaries
Here is a wonderful short documentary about the Traveling Wilburys.  
The powerful story of the music recordings for the movie West Side Story.
(Others include the movie The Last Waltz and the Beatles Anthology.)
Still other ways to expand the mind are associated with playing music, no matter your level. Most people have played at least some music—maybe minimally, maybe not for decades, but the experience is still tucked away in your brain. Open your piano, get out the guitar, or whatever instrument you have. Just play a note, any note; then two. Over a day or week, touch a key or pluck a string or two as you walk by—just make the connection again. These gestures may seem simple and insignificant, but they begin a powerful brain boost that could lead elsewhere.
Music biofeedback is also great for professional musicians. One day I was playing Ravel's Boléro when a neighbor came by to ask what I was listening to. This young, excellent hard rock electric guitarist had never heard Boléro. I played it from the beginning, and he was mesmerized. He borrowed the record and two days later asked me to his house where he played Boléro, all 18 variations, on his electric guitar. I could almost see the neural connections being made in his brain that expanded his mind. (I also watched another guitar player proficiently learn some of the great Gershwin piano pieces.) 
Experiencing all of music's spectrum, including its outer limits and inner depths, is of prime importance to everyone, regardless of our musical tastes, experience, or profession. (Also, we all require healthy food for a better brain. This includes natural fats like olive and coconut oils, dairy fats, egg yolks, fish and other animal fats while avoiding vegetable oil, sugar, and processed carbohydrates.)
Music is a significant part of all of us and can help expand the mind for a better, more balanced brain and body—from the earliest moments of life to its very end. While we all flow along our own spectrum, expanding it to improve brain function is a reality, even if starting at the bottom of the musicality model. I am a case in point, spending my early years with amusia and other significant brain injury. Evolving through adolescence and into adulthood, experience and experimentation helped my mind expand. Living through the extremes helped me better understand balance, a process I continue striving for today.
Perhaps the most potent biofeedback self-care remedy I've developed is the 5-Minute Power Break, which quickly helps the brain shift into alpha. It complements the information in this article. Here is the most updated version.
References
Caspi A, Roberts BW, Shiner RL. Personality development: Stability and change. Ann Rev Psychol. 2005;56.
Chamorro-Premuzic T, Furnham A. Personality and music: can traits explain how people use music in everyday life? Br J Psychol. 2007;98 (Pt 2). doi: 10.1348/000712606X111177.
Greenberg DM, et al. The Song Is You: Preferences for Musical Attribute Dimensions Reflect Personality. Person Sci. 2016;7(6). doi:10.1177/1948550616641473.
Hampson SE, Goldberg LR. A First Large-Cohort Study of Personality-Trait Stability Over the 40 Years Between Elementary School and Midlife. J Pers Soc Psychol. 2006; 91(4). doi:10.1037/0022-3514.91.4.763.
Hudson NW, et al. You have to follow through: Attaining behavioral change goals predicts volitional personality change. J Pers Soc Psychol. 2019;117(4). doi:10.1037/pspp0000221.
Rentfrow PJ, Gosling SD. The do re mi's of everyday life: The structure and personality correlates of music preferences. J Personality Soc Psych. 2003;84.
Schäfer T, et al. The psychological functions of music listening. Front Psychol. 2013;13;4:511. doi:10.3389/fpsyg.2013.00511.